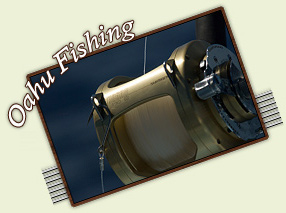 Fishing Charter Information
Chupu Sport Fishing Fleet charters offers full day and half day sportfishing adventures. We are also available for custom whale watching and multi-day fishing trips to outer islands. On all of our fishing charters we will provide all bait, tackle, ice and fish packaging supplies. All charters are crewed by a United States Coast Guard licensed captain and a professional deckhand.  Departure time for all charters in Summer:  5:15am,  Winter: 6:00am.  Times fluctuate, call your Captain the evening before for Time/Weather updates. Captain's number will be on your confirmation email.
What to bring on your fishing charter
Food and beverages for the day but PLEASE leave your bananas at home as they are considered BAD LUCK!! Alcoholic beverages are OK but make sure you also bring an adequate supply of bottled water. We have  large coolers and ice on board for you to use.
Sunglasses, hat (wide brimmed is best) and sunscreen. Our day is long and the Hawaiian sun is intense, so bring the maximum protective barrier to avoid seriously painful sunburn and skin cancer – SPF 30 or more is recommended.
Light windbreaker or wearable rain gear for the well prepared. Long sleeve shirt for sun protection and cloudy/rainy/windy situations (layering is best!)
Deck shoes with good grip soles when standing in water. Flip flops don't hold up well on wet decks and high seas, Crocs, surf shoes or Aqua Socks are OK.
Camera and or video equipment
Motion sickness medication should be taken the night before and once again the morning of your trip. Please consult your doctor or pharmacist for recommendations.
A NOTE FROM THE CAPTAIN
After years of charter fishing, here are a few suggestions to help you and your group have the best possible fishing experience while in Hawaii. Even if you decide to fish on another boat, this will help you so please read it.
PLEASE SHOW UP ON TIME! Want to really make a bad impression first thing in the morning? Be 30 minutes late for your charter. Believe it or not we have a reason for leaving at sunrise and being even 15 minutes late can dramatically change the outcome of your day. Again, please be on time.  Departure time for all charters in Summer:  5:15am,  Winter: 6:00am.  Times fluctuate, call your Captain the evening before for Time/Weather updates. Captain's number will be on your confirmation email.
If some of your friends and family don't like fishing, LEAVE THEM ON LAND!
Offshore fishing requires patience and a desire to participate in the sport. If you take someone out and they are miserable and want to go home early, guess what? You just spent $800 or more for only a few hours of fishing. If you had let them stay home you could have fished all day. If they would rather sit on the beach or go shopping (both are great activities), please don't take them fishing and spoil the day for everyone else.
If you suffer from equilibrium or inner ear problems, or if you get automobile, airplane, train or any kind of motion sickness- STAY ON LAND! Send the rest of the gang out fishing and meet them at the dock in the afternoon. You can always jump into the photo with them and all the fish and act like you were out there too! No one will ever know.
Men are more prone to motion sickness than women, so listen up guys. Take the motion sickness medication your wife bought. If you've spent $800 or more on a day of fishing and you are sick and your wife is fine, guess what dude? You will be fishing ALL DAY, and she is going to take lots of photos and threaten to show your buddies unless you take her shopping tomorrow- ALL DAY! Double ouch!!
We know that you are on vacation, but the night before your charter, please do the following: Eat a good dinner, take your motion sickness medication, and go to bed early. Whatever you do, please STAY OUT OF THE BAR.
Offshore fishing also requires a certain amount of physical fitness. If you have a bad back, hip, knee or any condition that may be aggravated by heavy lifting or the strain from keeping your balance, please ask your captain for his honest opinion on whether you should go fishing. This is the ocean, not a lake, and we don't want to see anyone get hurt while on board our boat. And believe me, sometimes in rough seas, just moving around on the boat can be challenging. Your Confirmation Email will have your Captain's cell phone number and a request to call him the night before your charter to check in, and for a weather update.
"We would have tipped if you had caught us more fish…" or "Wow, since we caught so many fish you guys made a lot today. I guess we don't have to tip huh…" Really? Please, fish or no fish we worked or butts off for you. C'mon- don't be "those people". A 20% gratuity is standard no matter who you fish with.
Pregnant women in their 2nd or 3rd trimester should not even think about going fishing. Seriously, don't do it.
If you have any questions please ASK THE CAPTAIN!
We'll be glad to help and we are looking forward to fishing with you!