Marlin Fishing with Chupu Charter
The Hawaiian Islands are a world renowned destination for anglers targeting the Pacific Ocean's largest game fish, the Pacific Blue Marlin. Several prestigious tournaments are held yearly with anglers from around the world preparing to do battle with one of sport fishing's greatest challenges. While summer is known as Marlin Tournament season in Hawaii, billfish of many different species can be caught in the islands year round. In fact, many anglers seeking to complete their personal "billfish slam" or the capture of all of the different billfish species come to Hawaii to target the smallest member of the billfish family.
The small but mighty Shortbill Marlin or Spearfish, while quite rare elsewhere in the world, is a fairly common sight in Hawaii. The Striped Marlin's aggressive attacks and aerial displays make it another favorite in our local waters. Ultimately, each type of Marlin is very different. Finding, hooking and landing or releasing each of the types requires a different approach. Our professional captains and crew have learned these methods and can provide this knowledge to you firsthand.
Pacific Blue Marlin
For Blue Marlin in Hawaii, lures seem to raise more large fish. Our approach at Chupu Charters when targeting large fish is to set up a four lure trolling pattern and spend as much time covering ground in the areas we know that large Blue Marlin tend to congregate in. Time on the water is critical and serious Marlin fishermen generally book multiple days on the water allowing them to spend a whole day in a known hot spot before moving on.
We will also try to find the calmest possible water in these productive areas. For our lure selection, we combine large to extra large lures that run close behind the boat as well as a few smaller offerings a bit further back, just in case that big fish is looking for a snack and not a meal. When the Marlin have moved into a smaller area and good numbers of fish are being reported, fishing with live bait can be a very effective method as well. However, you can't travel very fast with a live bait in the water, thus knowing exactly where the fish are is critical. This style of fishing also limits the number of lines that you have in the water, which allows you to focus your attention on one or maybe two baits at a time. Generally fish caught on live bait tend to be smaller fish. However, this is not always the case and quite a few fish over 500 pounds have been landed in Haleiwa using this technique.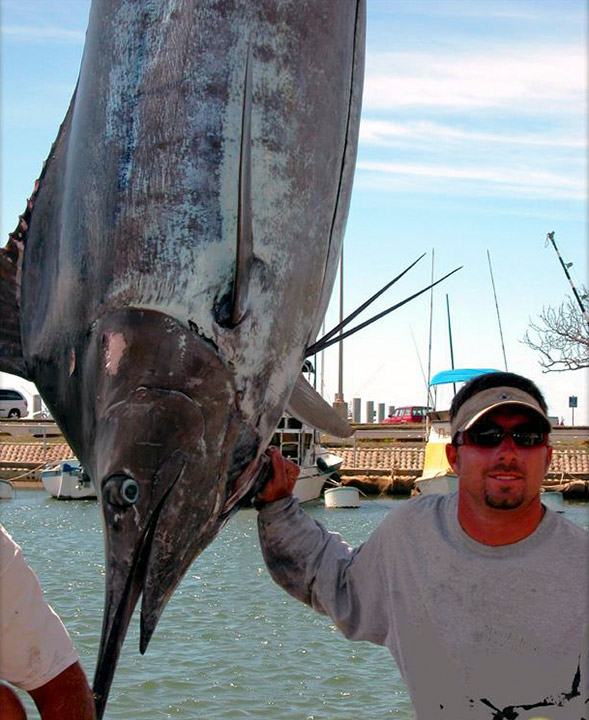 Striped Marlin
Striped Marlin present a different challenge and a different approach. A "Stripey" doesn't get a large as his cousin the Blue. A large one is around a hundred pounds with sixty to eighty being very common. What they lack in size, they make up for in aggression. With repeated slashing attacks and savage charges at lures positioned a few feet behind the boat, this is one angry fish. A great way to capitalize on this aggressiveness is to tease the fish. Running lures with no hooks allowing the fish to repeatedly grab a lure without getting hooked only to have it pulled from its mouth seem to drive these fish nuts.
Just about the time the fish can't take any more abuse, the crew will slide a bait or lure with a hook in it back to the waiting fish. The hookup usually only takes a few seconds. Having the fish so close to the boat also allows the crew to better gauge the size of the fish and use an appropriate size rod and reel to make the coming battle even more fun. Combine all of this with the fact that the Striped Marlin around Oahu tend to travel in packs. Catching this fish requires a lot of timing and team work.
Short Bill Marlin
Last but not least is our little friend the Shortbill Marlin. Around Oahu Shortbill or Spearfish are generally caught while targeting other species. It's not uncommon for a four foot long Spearfish to attack a lure intended for a Mahi Mahi or Yellowfin Tuna. They can be attracted to the boat with a teaser and caught on lighter tackle. And when this happens it's very easy to see why even though the Shortbill is much smaller than any of his cousins, he is still very much a member of the Marlin family.
Big or small if you decide that you would like to spend your day on the water targeting Billfish, Chupu Charters is ready for the challenge