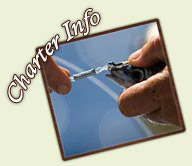 Hawaii Fishing Charter Trip Information
Good morning and welcome to Chupu Sportfishing! After your gear is stowed and you have been briefed about the boats safety features, we are off to the North Shore of Oahu's best fishing grounds in the light of a beautiful Hawaiian style sunrise. Within minutes of leaving the harbor, the deckhand will have all the lines set up with trolling lures running behind the boat.
From the moment we leave, until the last line is reeled in at the end of the day, both captain and crew are constantly scanning the ocean for signs of life: birds, currents and debris are all indicators that there could be fish in the area.
The fishing action could start at any time! Once everything is set, your deck hand for the day will get you familiar with how the LARGE fishing rods and reels work and what to do when one of our custom trolling lures gets a strike.
Our friendly and extremely knowledgeable captain and crew are here to make your day as enjoyable as possible. Remember that fishing is fun so don't be shy. ASK QUESTIONS! People who have never fished a day in their lives have made some of our best catches. Your first fish could be a 400-pound Marlin!
Your day will be spent trolling over the underwater peaks and valleys that surround the island. Some of our most productive big game fishing spots on Oahu are between 15 and 25 miles from shore. It may take a little while to reach the best fishing grounds, which is why booking a full day charter is best if you are serious about catching fish!
Come up on the bridge and relax. The view is awesome from the shaded comfort of the flybridge. In the morning we will usually swing past one of the "FADs" (Fish Aggregation Devices) in our area. "FADs" are buoys intended to provide mini-ecosystems and feeding grounds for schooling fish. They are places that are nurseries for little fish, and hopefully a few BIG fish looking for an easy meal.
If the schools are biting, its time for some light tackle fun. We can jig for Skipjack Tuna (Aku), small Yellowfin Tuna (Ahi) are often caught here too. And maybe a Dolphin (Mahi Mahi) will be attracted to the commotion and come over for a snack. Get ready and keep an eye on your rod, soon you will hear the deckhand yell "HANAPA`A!" or "FISH ON!"
But you didn't charter a fishing boat in Hawaii to sit at a buoy all day and catch small fish, did you?
We didn't think so. Among fishermen, the North Shore of Oahu is known for its schools of aggressive Dolphin (Mahi Mahi), Tuna (Ahi and Aku), Wahoo (Ono), and Marlin (A'u). When a school of fish is located, it's time for some serious action.
We may choose to set up a "bait and switch" pattern. Some of the lures are replaced with mackerel or strips of Tuna. The fish are attracted to the boat with a "teaser" (a large hook-less lure). Once brought within range they "home-in" on the scent of the fresh bait. This also gives the crew an opportunity to change rods and break out the light tackle to make the fight that much more exciting. Get ready.
"Baiting" is so effective it often results in multiple hookups! Watching four or five huge Dolphin (Mahi Mahi) race in and take a bait just a few feet behind the boat will make an angler out of anyone. If you aren't fighting a fish, get out your cameras. Dolphin (Mahi Mahi) is one of the most colorful and acrobatic fish you will ever see.
While you are battling your Dolphin (Mahi Mahi), keep an eye out for a big Pacific Blue Marlin sneaking up on your hooked fish. Pacific Blue Marlin in Hawaii are also attracted by the "teaser" and just might decide that your Dolphin (Mahi Mahi) should be lunch!
Hawaii Fishing Techniques
Bait and switch fishing is just one of many different fishing tricks the crew has up their sleeve. To see it all, give Captain Chris a call and schedule a day of deep sea fishing with Chupu Sport Fishing charters "The North Shore's finest Fishing Guide".
At the halfway point of the day, it's time to start heading back towards Oahu and the harbor. Sit back, have a snack, and enjoy the scenery. Flying fish, Spinner Dolphins, and Pilot Whales can all be seen year round. December through April is prime Humpback Whale season, so keep your cameras ready. Alcohol is permitted on board and a celebratory beer with lunch may be in order. But don't get too comfortable, your day of sport fishing in Hawaii isn't over until the last line is reeled in.
It's not uncommon to find a fish or two on the way in. Upon returning to Haleiwa Harbor, get out your cameras to take photos with your catch. If you would like more information on having your trophy game fish mounted, your crew will get you set up with a quality taxidermist.
The crew will also gladly fillet some of the catch for you to take home. Ask about cooking and storage instructions if you don't have a favorite recipe in mind. As we like to say, "Fewer boats equal more fish!" Remember, the world's largest Pacific Blue Marlin ever landed on rod and reel was caught off Oahu weighing in at 1805 lbs. The next one could be yours!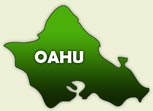 If you are planning a sport fishing charter in Hawaii, consider fishing where the locals fish – on the North Shore of Oahu, and make our boat your deep sea fishing boat for the day. With both full-day and half-day big game sport fishing charters available, we can customize a day of deep sea fishing to suit anglers of all ages and abilities.
Whether it's looking for some action packed schools of Dolphin (Mahi Mahi) on light tackle, a fight with a giant Yellowfin Tuna (Ahi), or perhaps a chance at landing a 1,000 pound+ Pacific Blue Marlin, let us be your Oahu fishing guide. We will make sure that you are safe, comfortable and most of all, ready to "Hang on to the Big One"!