Oahu, North Shore Sportfishing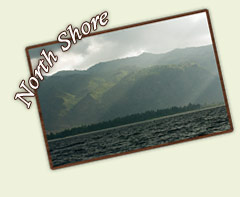 People typically think of Marlin fishing off the Kona Coast on the Big Island of Hawaii. However, Oahu is home to some of Hawaii's best open-ocean (pelagic) fishing grounds with abundant schools of Dolphin Fish (Mahi Mahi), Yellowfin Tuna (Ahi), Wahoo (Ono), Skipjack Tuna (Aku) and, of course, the infamous Pacific Blue Marlin (A'u). Many do not realize that the world's largest Marlin ever landed on rod and reel was caught off Oahu weighing in at 1,805 lbs. Overall, the Blue Marlin is considered the ultimate star of big game fishing, the biggest and the best, made famous by Hemingway and sought after for decades by sport fisherman all over the world.
The best location for fishing on Oahu is on Oahu's legendary north shore – known for its world class surfing and its incredible deep sea fishing. The North Shore of Oahu is in the direct path of trade winds and currents from the Northwestern Pacific and is a place where the ocean depths drop quickly into very deep waters. A key factor in making the North Shore the best place to fish include the deep water along with the strong currents that bring new bait and game fish into our offshore waters. The center of North Shore Sportfishing is Haleiwa Harbor in the historic town of Haleiwa, where our boats are docked in the harbor.
Got a question for the captain? Just ASK THE CAPTAIN and have your question personally answered by Captain Chris. The Reservations Page will provide you with helpful information and booking instructions for your offshore adventure.
Sport fishing with Chupu Sport Fishing Fleet is a serious fishing adventure for an angler of any skill level. Let our experienced and professional crew be your guide to a once-in-a-lifetime journey! We will cruise the waters outside of Haleiwa Harbor from Turtle Bay to the north of Haleiwa to Ka'ena Point and to the west. These fishing grounds possess breathtaking island views, surprisingly few charter boats, and generate lots of fishing action!
With so few fishing charters to compete with, typically there are more fish caught per angler here than anywhere else on the island. With both full and half-day fishing trips available, Chupu charters on Oahu's North Shore can customize a day of deep sea fishing to suit your fishing desires whether you are looking for some action-packed schools of Mahi Mahi, want to battle an angry Wahoo, a fight with a giant Yellowfin Tuna, or a chance at landing a 1,000 pound Marlin
Remember, all charter boats and crews are NOT created equal. It's always best to "KNOW BEFORE YOU GO". If you are in the area, stop by the harbor, meet the crew and tour our boat. Oahu's North Shore is the place to fish and Chupu charters is the adventure for you!